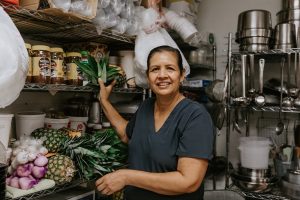 In honor of Women's History Month and International Women's Day on March 8th, we celebrate the profound impact that women entrepreneurs make in our communities with resources for women-owned businesses. For many women, entrepreneurship is the best or only option to earn income and build wealth for their household.  Women entrepreneurs often have the flexibility to care for family and to make an impact in their community with their businesses.
From 2014 to 2019, the number of women-owned businesses grew 21%, representing 42% of all American businesses—nearly 13 million—employing 9.4 million workers and generating revenues of $1.9 trillion. During the same period, firms owned by women of color grew double that rate at 43%, while Black women-owned firms grew even faster at 50%.  However, during the Covid-19 pandemic, businesses owned by entrepreneurs of color were disproportionately impacted, receiving less federal support than other businesses. Businesses owned by women of color received the least amount of aid because government funding often relies on relationships with big banks and institutions, which have historically turned down loan requests from women of color at twice the rate as White men.
This gap demonstrates the vital importance of Community Development Financial Institutions and mission-based lenders like Accessity who aims to provide resources for women-owned businesses. Accessity's mission is to open doors of financial opportunity to entrepreneurs who historically have had less access to capital and business support.  Entrepreneurs who are women, people of color, immigrants, and low-to-moderate income can benefit from utilizing Accessity as a reource. Accessity's program offers accessible business loan requirements, resources, education, and a supportive lending team, and values the unique story of each business owner's journey of starting their business, overcoming adversities, learning lessons, and reaching goals.
Below we highlight a list of organizations that are dedicated to supporting women-owned businesses in Southern California.
Ladies Who Launch
Ladies Who Launch is a national not-for-profit organization for women business owners seeking community, education, and inspiration. LWL also provides other resources, funding, mentorship, and networking opportunities.
NAWBO
The National Association of Women Business Owners is a membership-based network for women entrepreneurs that provides advocacy, education, marketing through their directory, networking opportunities, and more. Chapters throughout Southern California including:
Inland Empire – NAWBO
Los Angeles – NAWBO
Orange County – NAWBO
San Diego – NAWBO
NLBWA
The National Latina Business Women Association is a membership-based network for Latina entrepreneurs that provides members with educational programs, financial workshops, business referrals, and networking to build strong relationships with fellow Latina entrepreneurs. Chapters throughout Southern California including:
Inland Empire – NLBWA
Los Angeles – NLBWA
San Diego – NLBWA
Business Coaching and Mentorship
Women's Business Centers
Funded by the U.S. Small Business Administration, Women's Business Centers offer free business educational workshops, resources, one-on-one coaching from consultants who are experts in various areas of business including startups, marketing, and strategic growth planning, and other support services dedicated to women entrepreneurs. Centers throughout Southern California including:
API SBC Women's Business Center (Los Angeles)
Coachella Valley Women's Business Center
Inland Empire Women's Business Center
New Women's Business Center (Los Angeles)
PACE Women's Business Center (Los Angeles)
San Diego and Imperial Women's Business Center
SCORE
SCORE, funded by the U.S. Small Business Administration, offers a network of mentors who are experienced entrepreneurs, industry experts and retired professionals who volunteer to help mentor small business owners. Working with a mentor is free of charge. Local SCORE chapters also offer workshops, resources, and women's networking events. Chapters throughout Southern California including:
Los Angeles County – SCORE
Orange County – SCORE
Riverside, San Bernardino Counties and East San Gabriel Valley – SCORE
San Diego and Imperial Counties – SCORE
Founders First CDC 
Founders First CDC offers various accelerator programs, coaching and resources for diverse-led and women-owned businesses in various stages of business with the goal to help business owners create sustainable business growth strategies. Available in San Diego and Inland Empire. Not for start-up businesses.
Women-focused Coworking Spaces
Hera Hub
Hera Hub is the first international female-focused, spa-inspired coworking space and business accelerator.  Their platform supports its members through education, mentoring, and collaboration. The office environment gives them access to professional and productive workspaces where women can intermix community while growing prosperous businesses. Locations in Orange, Riverside, and San Diego counties.
The Jane Club
The Jane Club is a coworking space in Los Angeles that allows "Janes" or women business owners and mom-preneurs, to find community within inviting workspaces, enriching, and entertaining programming and world-class onsite childcare.  When the pandemic hit, Jane became virtual and now connects more than 500+ women to date. Located in Los Angeles.
Procurement Opportunities
WBENC-West
The Women's Business Enterprise National Council (WBENC) certification for women-owned businesses is one of the most widely recognized certifications in the nation accepted by hundreds of corporations within the country and many federal, state, and local government agencies. WBENC-West helps women business owners through the certification process to be able to bid on procurement opportunities with government agencies and corporations. WBENC-West serves the West Coast.
Council for Supplier Diversity
The Council for Supplier Diversity provides personalized guidance and services for the certification application and submission to the most recognized national business enterprise certification programs, including:
Women's Business Enterprise National Council
U.S. Department of Transportation DBE Program
SBA Women-Owned Small Business (WOSB) Program Certification
National Women Business Owners Corporation
U.S. Women Chamber of Commerce
Business Loans and Support for Women
Accessity believes in building social equity through our lending philosophy and holistic approach in working with small business owners. Forty-four percent of Accessity's lending goes to women business owners and 69% of our female borrowers are entrepreneurs of color. In addition to access to small business loans up to $100,000 with flexible lending requirements, Accessity offers free business educational events and webinars, and a community of business support through local and national partners.
Each summer, Accessity offers the Academia de Accessity, a 10-week start-up training program in Spanish for Latinas seeking a step-by-step guide, mentorship and community while starting a new business. The $20 commitment fee is refundable after graduation of the program. The English-version Accessity Academy is offered each spring. Since the launch of the Academy in 2013, 65% of the participants were women and since 2019, 77% of the Accessity Academy participants were women of color. Email cortega@accessity.org to join the waiting lists.
At no charge, Accessity also offers mentoring by industry leaders for food and beverage businesses, credit and financial coaching, a human resources hotline and annual sexual harassment training required for employer firms, publicity opportunities with local media outlets and more. Accessity is more than a lender, we are a trusted partner committed to our clients' business success. If you'd like to learn more or see if you qualify for a business loan, contact our Accessity team here.