stron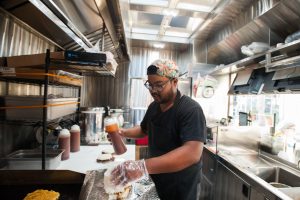 If you've been looking for a startup business loan, you may have realized by now that traditional lenders such as banks and credit unions will require at least two years in business to qualify. Startup businesses are inherently risky ventures. According to data from the U.S. Bureau of Labor Statistics, approximately 20% of new businesses fail during the first two years of being open and 45% fail during the first five years. As a result, banks want to see a strong business financial track record that demonstrates the ability to repay their loan. Fortunately, there are mission-based lenders, like Accessity, who are willing to finance your startup and provide valuable resources along the way.
Startup lenders will look closely at your business plan and other important factors to determine your business' viability.  In doing so, prepares you to launch your business. Knowing what factors lenders will assess on your startup loan application will help you prepare before speaking with a lender. This will make your application as strong as possible.
Here are five things lenders look for in your startup business loan application:
1. Character: What is it about you that will make your business successful?
Startup business usually have limited to no operating history. Much of your loan application will depend on your personal strength. A large portion will also be dependent on the impression you give your lender.
Are you honest and easy to work with?
– Make sure to return phone calls promptly
– Answer questions in a forthright manner
– Provide necessary and transparent documentation
Do you have experience in the industry?
– The more experience you have in the type of business or industry, the more likely that you'll be successful.
What's your story of why you want to start your business and what does that say about your character?
– Do you have a special talent or skill?
– Do you see a need to help others?
– Are you overcoming adversities?
– Have you done your research?
Your business plan should outline all of this to give your lender a good impression.  The goal is to make lenders feel comfortable about your likelihood of success. It should compel them to give extra effort towards your loan application because they believe in you.
2. Credit: Are you trustworthy?
For startups, and for most small businesses regardless of if your business is a separate legal entity like an LLC or corporation, the lender will pull and review your personal credit report. The stronger your personal credit score, history of on-time payments, and responsibly managing your debt-load, the stronger your startup business loan application.
3. Capacity: How will you pay your loan? 
Your lender will want to ensure you have enough current and steady income for the loan payment. Startup businesses often do not generate enough revenue to cover expenses for the first few months or first year. Having a solid source of personal income is essential for a startup loan request. You will need to pay for your personal expenses, business expenses and the loan payment while your business becomes profitable.
Sources of personal income include: another job, miscellaneous income from a rental, retirement, social security and other benefits, or income from a spouse/other person who is willing to be a co-borrower on the loan.
4. Collateral: Reducing the risk of loss if you fail to pay your loan
Depending on the lender, examples of collateral you can use to secure a business loan can include real estate, paid-in-full vehicles, or business assets. The more tangible the asset is to liquidate – think how much easier it is to sell a car versus selling an oven – and the greater the value of the asset compared to the loan amount you are borrowing, the lower the risk of loss for the lender approving your startup loan in the event you fail to pay your loan.
5. Equity: What is your "skin in the game"?
Since startup businesses are riskier in nature, lenders are less inclined to take on 100% of the risk by financing all your startup expenses. They will want to know how much of your own money you have invested or have set aside ready to invest (a.k.a. your "skin in the game"). Your business plan should include equipment, licenses, training, inventory, and anything else of value to show that you are truly serious about your business.
Other things that are taken into consideration for a business loan request include:
What are you going to use the money for?
What type of business are you starting? (Some industries are inherently higher risk than others, such as restaurants, construction, retail, etc.)
Strength of web presence (website, positive online reviews, social media followers, etc.)
I'm not sure my loan application will be strong enough to get approved. Are there resources that can help me?
The best thing to start with is to speak with lenders to describe your business, credit, and loan needs to identify what options you have and to uncover your strengths and weaknesses. Many business owners assume they will not qualify for a loan due to credit or other weaknesses but may have not applied with a lender with as flexible requirements as Accessity. In addition to offering small business loans up to $100,000 for startup and growing businesses in Southern California, we also offer access to a business resource community and free credit and financial coaching through our partner TrustPlus to help business owners become loan-ready.
If you'd like to see if you qualify for a business loan or are interested in credit and financial coaching, contact our Accessity team here.
This information is shared for educational purposes only. Please consult legal, tax, credit, or financial experts for specific guidance.