Welcome, friend! Thank you so much for stopping by. We created our blog to highlight small business success stories, partnerships, and initiatives, and provide tips and resources for small business owners.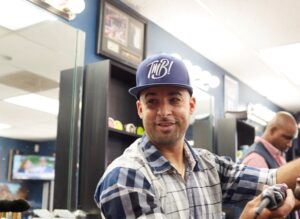 Who We Are 
Accessity, formerly Accion serving Southern California, is an independent, 501(c)(3) nonprofit Community Development Financial Institution (CDFI) organization that provides economic opportunity to entrepreneurs through access to small business loans from $300 to $100,000 and a community of educational support and resources. Accessity services Southern California.
Since 1994, Accessity has provided approximately $52 million in loans to small business owners, assisting them in starting, expanding, building self-sufficiency, and supporting the local economy and employment. 
Our mission is to open doors of financial opportunity, increase access to capital and provide business support for historically disadvantaged entrepreneurs – including people of color, women, immigrant and low-to-moderate income entrepreneurs. The end goal? To help them build prosperous businesses and livelihoods for themselves and their families, while also strengthening our shared Southern California community.

Our New Brand: Accion Serving Southern California Becomes Accessity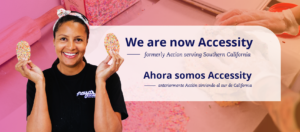 Our new brand name Accessity intentionally combines the word "Access" and "ity" from the word community. It demonstrates our commitment to making a greater impact in the lives of the small business owners and entrepreneurs we serve, especially for those who often lack equitable access to loan capital and a community of support and resources. 
Our logo represents the entrepreneurial spirit and a diverse community coming together to serve as catalysts for launching and growing businesses, as displayed in colors and design reflective of our diverse Southern California community. At Accessity, we believe in building social equity through our lending philosophy and wrap-around approach of serving our clients with additional support and resources. 
What Makes Accessity Different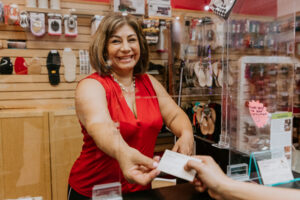 Wherever you are in your business journey, we believe in meeting you there. Our team of business development, microlending and financial experts specializes in working with business owners who want connection and funding to start or grow their business dreams. You've invested so much and may have overcome adversities along the way, and we value that. We provide flexible loans for small business owners just like you. 
What We Do 
Whether it's access to capital, resources or an entrepreneurial community, Accessity provides support for your business when you need it most. Accessity's lending takes into consideration factors that traditional banks may not consider so you can launch or grow your business successfully and increase your income, build wealth, create jobs, and make our local communities thrive.
We provide access to:
💸 Business Loans: Accessity business loans range up to $100,000 and can be used for business start-ups and expansion or to recover from COVID-19
🤝 Business Support Community: We can connect you to our local and national partner network of business and financial coaches, our peer entrepreneur communities, our educational business events, and our knowledgeable staff who provide advice and encouragement before, during and after the loan process
📣 Marketing Channels: Accessity entrepreneurs get exclusive access to marketing channels through our partnerships with local media and our strong online presence through which we share their news and tell their inspiring stories
Meet Accessity Entrepreneurs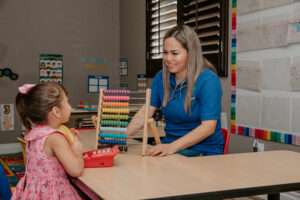 "2020 was an extremely challenging year for everyone. Thanks to the funding I received from Accessity, I was able to reopen my business and provide a critical service with COVID-19 safety precautions in place for Valley families trying to survive the pandemic." –  Joanna Corona, owner of  Discovery Childcare in Heber, Calif.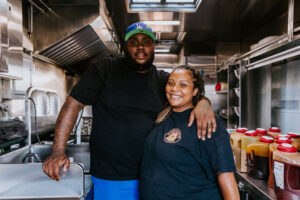 "Working with Accessity was a seamless process. Our business development officer, Christine, was awesome and helped us make our dream a reality!" – Monique Guy, co-owner of Dat Guy's Wingz in Bloomington, Calif. 
Interested in applying for a loan? Our business loan application takes approximately 15 minutes to complete. Apply today.