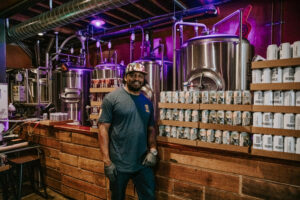 For business owners, managing the next wave of COVID-19 can seem exhausting to say the least.  With California once again mandating masks indoor in public places on December 15, 2021 in response to the Omicron variant, it's fair to say that at this point most business owners have a sense of tired déjà vu.
2022 kicks off after closing out another wild year, and we are approaching the 2-year anniversary of California's state of emergency for the COVID-19 outbreak. There are legitimate reasons why this rollercoaster can seem endless and you may want to beg off the ride — especially if you're running a brick & mortar business:
You're on the 5th wave, and we can certainly understand why you'd have a case of COVID fatigue. After all, you've had to track the back & forth, up & down nature of figuring out local, state and national guidelines, mandates and recommendations all while staying connected with your customers and employees.

Speaking of your employees, you're possibly also experiencing

hiring challenges the likes of which we haven't experienced before

. Which explains why we're still struggling to figure out this job market paradox: job openings are back to pre-COVID-19 levels and yet the overall labor force in the US is 4.7 million smaller than it was before the pandemic.

If you've made it this far through the first COVID waves, then you've likely already had to invest in all sorts of health and safety precautions — both for your customers and your employees — that affected everyone's experience at your establishment.

The landscape is changing fast because of this pandemic, as new customer behaviors and overall economic conditions have given rise

to more competitors

.
Our clients' experiences have shown us, though, what it takes to outlive these pandemic waves. Business owners have done their best in managing the next COVID wave if they remain steadfast in their efforts.  Their ability to adapt, adjust, learn and pivot in response to home-based lifestyles and other new digital habits are testaments to the grit and tenacity that all entrepreneurs have at their core. It's why we see these businesses eventually develop more resilient systems, teams and revenue streams; and put in place some potentially more sustainable practices.
As owners of retail and service-based businesses prepare for the Omicron variants effects, we recommend giving yourself the time and space to do a few things:
Measure what you've done before so you can trust your next decisions.


Which new services have you offered that make sense to continue? For example, if you offered a curbside pickup option and were thinking about winding it down, maybe it's time to think about it as a long-term solution that's a permanent part of your business model.

Ask your customers directly what they want.


Even if there are more scientifically effective ways to gather customer feedback, something as

short as a 3-5 question survey

given at the point-of-sale, included on the bill or even as a paper-based option at the check-out line is better than nothing.

Over-communicate what you're doing on your marketing platforms


Whether that's your website, your social media channels or your Google My Business page, develop the habit of keeping your customers on the same page. The more they have to look for that information, the quicker they'll move on to a competitor page that includes it.

Be transparent and vulnerable
Share what you're doing – and why – with your teams. It's an insecure time for everyone and a perfect opportunity for your leadership to shine through. There's no better shortcut to building trust with people than through open and honest communication.

And, needless to say, don't hesitate to reach out to anyone on the Accessity team with questions about navigating the weeks and months ahead. We offer small business loans with flexible credit requirements up to $100,000 and access to a business resource community to support entrepreneurs in Southern California.
Finally, here are some additional resources we recommend you bookmark and reference regularly:
California has rules to keep workplaces safe from COVID-19
A guide to welcoming your customers and employees back to your business
CDC: Guidance for Businesses and Employers Responding to COVID-19
For restaurants: 
Reopening & Recovery: National Restaurant Association
COVID-19 Operating Guidance: A Guide for the Restaurant Industry
This information is shared for educational purposes only. Please consult legal, tax, credit, financial or health experts for specific guidance.